About The Artist
Moscoso sculptures are a study of synchronized glassworks. Inspiration for his works greatly relates to his personal experiences with nature, structure, and the intuition of time, balance, symmetry and its interaction with our surroundings.
Early in his adult life he gained experience and knowledge in the glass industry of mass fabrication as well as the high rise architectural building trade. For several years he owned Glass Effects, Inc., a custom glass and mirror company in the South County area. However, his imagination led to using his knowledge to create with a passion that resulted in his turning from the world of business to the world of art.
As a self-taught glass artist, his fascination with glass as an art medium allows him the opportunity to enhance our environments both architecturally and aesthetically. His original works of art are an expression of the artist's imagination.
The method in which the art is created includes a process of cutting, polishing, etching, chipping, carving and even breaking. He essentially creates a form by transfer of lines to create shape on glass. The sculpting of glass continues as he shapes the form using hand tools such as glass pliers or even a ball-peen hammer if necessary. Once the piece is formed/shaped, the final stage of softening all edgeworks to the touch completes the process. Then the sculpture is constructed, with careful detail to its imaginative design, color placement selection, weight distribution, scale of the sculpture, and completed as it is adhered in the process of cold fusion.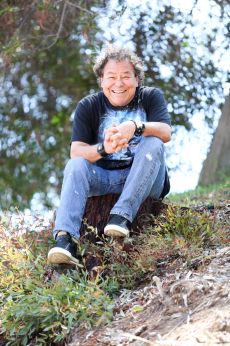 "Imagination has meant more to me than any talent for absorbing absolute knowledge."
– Albert Einstein
"As a face is reflected in water, so the heart reflects the person."
– Proverbs 27:19